As of today 18th Jun 2020, Canada is having inflation rate of -0.4%. Country is fighting two wars at the same time. One is COVID 19 and another one is the Oil price war. Both of them taking huge toll on the Canadian economy. Canada, like most of developed countries, spear heading towards a recession. Unemployment rate has reached 13.7% and the pandemic is going to cost CAD 250B by end of 2020.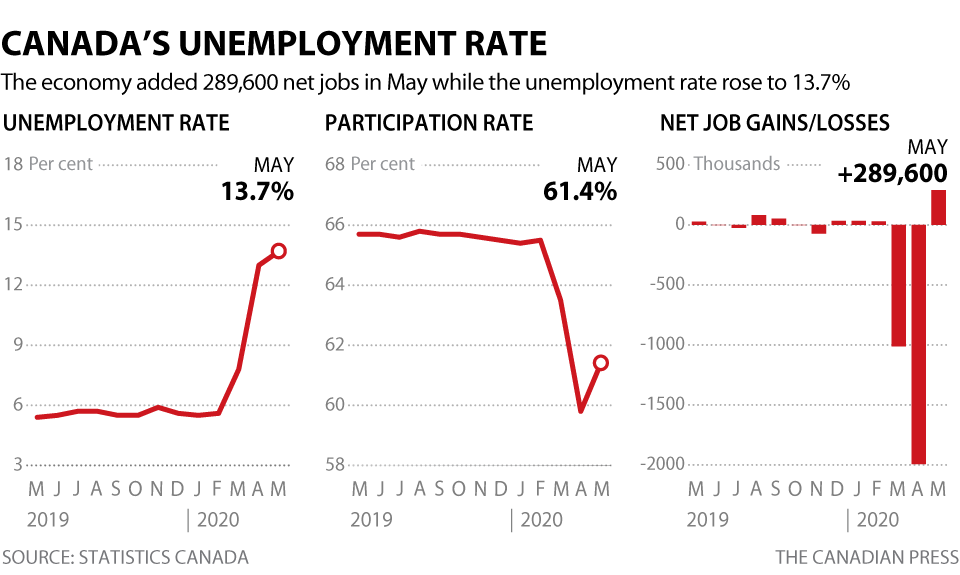 Canada was supposed to give Permanent Residency to 1 million immigrants between 2020-2022. Things might just slow down due to COVID 19 spread for immigrants who are not already in Canada for rest of the 2020. IRCC is probably targeting inland applicants for last few months. So, you can see the spike in the CRS cut off score in 2020. Even if IRCC invites 3500 candidates in next draw, the cut off score will be between 471-480.
Immigration Minister Marco Mendicino hinted that Fed might cut back on immigration. Canada imports about 1% of the population each year to help contribute to the economy with the aging population. But don't worry yet. There is no confirmed news about the cut back. At least, we will not know until fall 2020. Nonetheless, it will be a difficult time for the future immigrants.
The silver lining is that IRCC is still continuing to process existing applications. Permanent residents are still flying in.
Regardless of COVID 19, you can expect the average CRS cut off scores to go higher. It is because there are a lot of people coming to Canada as Students and in Work Permits. Thanks to Trump. As USA is trying to block the path of new immigration, students are finding Canada a preferred destination.
Unlike US, Canada allows students to work 20 hours a week. Getting H1b (work visa in US) after graduation is really difficult. Even if someone manages to get H1b, it is really hard to get LPR (Green Card). In Canada, students can get citizenship in about 5-6 years. Whereas in US, it can take more than a decade. For Indians, multiply that with 3. So more students will flock in to Canada.
A Canadian degree with few years of work experience will give you very high CRS score. If you are outside Canada and have none of those two advantages, you just can not just beat that score.
So, if I see CRS cut off above 480 in late 2020 or early 2021, I will not be surprised.
Tending Post: Computer Based or Paper Based IELTS?
FSW Draw resultss till Jun 18th 2020.
| | | | | |
| --- | --- | --- | --- | --- |
| Draw # | Date | Score | InTake | Cut Off Date |
| 151 | 10-Jun-20 | 743 | 341 | 14-Apr-20 |
| 150 | 28-May-20 | 440 | 3,515 | 7-Mar-20 |
| 149 | 27-May-20 | 757 | 385 | 27-Apr-20 |
| 148 | 14-May-20 | 447 | 3,371 | 23-Dec-19 |
| 147 | 13-May-20 | 718 | 529 | 19-Mar-20 |
| 146 | 1-May-20 | 452 | 3,311 | 10-Oct-19 |
| 145 | 29-Apr-20 | 692 | 589 | 11-Mar-20 |
| 144 | 16-Apr-20 | 455 | 3,782 | 20-Jan-20 |
| 143 | 15-Apr-20 | 808 | 118 | 18-Mar-20 |
| 142 | 9-Apr-20 | 464 | 3,294 | 4-Jan-20 |
| 141 | 9-Apr-20 | 698 | 606 | 18-Dec-19 |
| 140 | 23-Mar-20 | 467 | 3,232 | 25-Nov-19 |
| 139 | 18-Mar-20 | 720 | 668 | 19-Mar-20 |
| 138 | 4-Mar-20 | 471 | 3,900 | 24-Feb-20 |
| 137 | 19-Feb-20 | 470 | 4,500 | 13-Jan-20 |
| 136 | 5-Feb-20 | 472 | 3,500 | 30-Jan-20 |
| 135 | 22-Jan-20 | 471 | 3,400 | 9-May-19 |
| 134 | 8-Jan-20 | 473 | 3,400 | 27-Dec-19 |
| 133 | 19-Dec-19 | 469 | 3,200 | 14-Nov-19 |
| 132 | 11-Dec-19 | 472 | 3,200 | 6-Dec-19 |
| 131 | 27-Nov-19 | 471 | 3,600 | 11-Nov-19 |
| 130 | 13-Nov-19 | 472 | 3,600 | 8-Oct-19 |
| 129 | 30-Oct-19 | 475 | 3,900 | 29-Aug-19 |
| 128 | 16-Oct-19 | 357 | 500 | 4-Mar-19 |
| 127 | 2-Oct-19 | 464 | 3,900 | 20-Sep-19 |
| 126 | 18-Sep-19 | 462 | 3,600 | 29-Aug-19 |
| 125 | 4-Sep-19 | 463 | 3,600 | 23-Aug-19 |
| 124 | 20-Aug-19 | 457 | 3,600 | 24-Mar-19 |
| 123 | 12-Aug-19 | 466 | 3,600 | 6-Aug-19 |
| 122 | 24-Jul-19 | 459 | 3,600 | 25-May-19 |
| 121 | 10-Jul-19 | 460 | 3,600 | 11-Jun-19 |
| 120 | 26-Jun-19 | 462 | 3,350 | 11-May-19 |
| 119 | 12-Jun-19 | 465 | 3,350 | 6-Jun-19 |
| 118 | 29-May-19 | 470 | 3,350 | 23-May-19 |
| 117 | 15-May-19 | 332 | 500 | 29-Aug-18 |
| 116 | 1-May-19 | 450 | 3,350 | 5-Nov-18 |
| 115 | 17-Apr-19 | 451 | 3,350 | 2-Apr-19 |
| 114 | 3-Apr-19 | 451 | 3,350 | 9-Jan-19 |
| 113 | 20-Mar-19 | 452 | 3,350 | 7-Feb-19 |
| 112 | 6-Mar-19 | 454 | 3,350 | 11-Feb-19 |
| 111 | 20-Feb-19 | 457 | 3,350 | 6-Dec-18 |
| 110 | 30-Jan-19 | 438 | 3,350 | 26-Apr-18 |
| 109 | 23-Jan-19 | 443 | 3,900 | 2-Jan-19 |
| 108 | 10-Jan-19 | 449 | 3,900 | 2-Jan-19 |
| 107 | 19-Dec-18 | 439 | 3,900 | 6-Feb-18 |
| 106 | 12-Dec-18 | 445 | 3,900 | 28-Nov-18 |
| 105 | 28-Nov-18 | 445 | 3,900 | 22-Oct-18 |
| 104 | 15-Nov-18 | 449 | 3,900 | 16-Sep-18 |
| 103 | 29-Oct-18 | 442 | 3,900 | 16-Oct-18 |
| 102 | 15-Oct-18 | 440 | 3,900 | 18-Sep-18 |
| 101 | 3-Oct-18 | 445 | 3,900 | 2-Oct-18 |
| 100 | 24-Sep-18 | 284 | 400 (Federal Skilled Trades Specific Draw) | 18-Feb-18 |
| 99 | 18-Sep-18 | 441 | 3,500 | 6-Sep-18 |
| 98 | 5-Sep-18 | 440 | 3,900 | 29-Apr-18 |
| 97 | 22-Aug-18 | 440 | 3,750 | 21-Feb-18 |
| 96 | 8-Aug-18 | 440 | 3,750 | 31-Jan-18 |
| 95 | 25-Jul-18 | 441 | 3,750 | 31-Dec-17 |
| 94 | 11-Jul-18 | 442 | 3,750 | 26-Jun-18 |
| 93 | 25-Jun-18 | 442 | 3,750 | 28-Jan-18 |
| 92 | 13-Jun-18 | 451 | 3,750 | 21-Jul-17 |
| 91 | 30-May-18 | 288 | 700 | *PNP and FST only |
| 90 | 23-May-18 | 440 | 3500 | 30-Dec-17 |
| 89 | 9-May-18 | 441 | 3500 | 12-Dec-17 |
| 88 | 25-Apr-18 | 441 | 3500 | 8-Dec-17 |
| 87 | 11-Apr-18 | 444 | 3500 | 26-Mar-18 |
| 86 | 26-Mar-18 | 446 | 3000 | 23-Feb-18 |
| 85 | 14-Mar-18 | 456 | 3000 | 3-Mar-18 |
| 84 | 21-Feb-18 | 442 | 3000 | 11-Feb-18 |
| 83 | 7-Feb-18 | 442 | 3000 | 29-May-17 |
| 82 | 24-Jan-18 | 444 | 2750 | 17-Jan-18 |
| 81 | 10-Jan-18 | 446 | 2750 | 18-Nov-17 |
| 80 | 20-Dec-17 | 446 | 2750 | 2-Oct-17 |
| 79 | 6-Dec-17 | 452 | 2750 | 16-Nov-17 |
| 78 | 15-Nov-17 | 439 | 2750 | 19-Oct-17 |
| 77 | 8-Nov-17 | 458 | 2000 | 23-Oct-17 |
| 76 | 1-Nov-17 | 241 | 505 |   |
| 75 | 1-Nov-17 | 673 | 290 |   |
| 74 | 18-Oct-17 | 436 | 2757 |   |
| 73 | 4-Oct-17 | 438 | 2801 |   |
| 72 | 20-Sep-17 | 433 | 2871 |   |
| 71 | 6-Sep-17 | 435 | 2772 |   |
| 70 | 23-Aug-17 | 434 | 3035 |   |
| 69 | 9-Aug-17 | 433 | 2991 |   |
| 68 | 2-Aug-17 | 441 | 3264 |   |
| 67 | 12-Jul-17 | 440 | 3202 |   |
| 66 | 28-Jun-17 | 449 | 3409 |   |
| 65 | 31-May-17 | 413 | 3877 |   |
| 64 | 26-May-17 | 199 | 400 |   |
| 63 | 26-May-17 | 775 | 143 |   |
| 62 | 19-May-17 | 415 | 3687 |   |
| 61 | 4-May-17 | 423 | 3796 |   |
| 60 | 19-Apr-17 | 415 | 3665 |   |
| 59 | 12-Apr-17 | 423 | 3923 |   |
| 58 | 5-Apr-17 | 431 | 3753 |   |
| 57 | 24-Mar-17 | 441 | 3749 |   |
| 56 | 1-Mar-17 | 434 | 3884 |   |
| 55 | 22-Feb-17 | 441 | 3611 |   |
| 54 | 8-Feb-17 | 447 | 3664 |   |
| 53 | 25-Jan-17 | 453 | 3508 |   |
| 52 | 11-Jan-17 | 459 | 3334 |   |
| 51 | 4-Jan-17 | 468 | 2902 |   |
| 50 | 22-Dec-16 | 475 | 2878 |   |
| 49 | 16-Dec-16 | 497 | 1936 |   |
| 48 | 30-Nov-16 | 786 | 559 |   |
| 47 | 16-Nov-16 | 470 | 2427 |   |
| 46 | 2-Nov-16 | 472 | 2080 |   |
| 45 | 19-Oct-16 | 484 | 1518 |   |
| 44 | 12-Oct-16 | 484 | 1518 |   |
| 43 | 21-Sep-16 | 483 | 1288 |   |
| 42 | 7-Sep-16 | 491 | 1000 |   |
| 41 | 24-Aug-16 | 538 | 750 |   |
| 40 | 10-Aug-16 | 490 | 754 |   |
| 39 | 27-Jul-16 | 488 | 755 |   |
| 38 | 13-Jul-16 | 482 | 747 |   |
| 37 | 29-Jun-16 | 482 | 773 |   |
| 36 | 15-Jun-16 | 488 | 752 |   |
| 35 | 1-Jun-16 | 483 | 762 |   |
| 34 | 18-May-16 | 484 | 763 |   |
| 33 | 6-May-16 | 534 | 799 |   |
| 32 | 20-Apr-16 | 468 | 1018 |   |
| 31 | 6-Apr-16 | 470 | 954 |   |
| 30 | 23-Mar-16 | 470 | 1014 |   |
| 29 | 9-Mar-16 | 473 | 1013 |   |
| 28 | 24-Feb-16 | 453 | 1484 |   |
| 27 | 10-Feb-16 | 459 | 1505 |   |
| 26 | 27-Jan-16 | 457 | 1468 |   |
| 25 | 13-Jan-16 | 453 | 1518 |   |
| 24 | 6-Jan-16 | 461 | 1463 |   |
| 23 | 18-Dec-15 | 460 | 1503 |   |
| 22 | 4-Dec-15 | 461 | 1451 |   |
| 21 | 27-Nov-15 | 472 | 1559 |   |
| 20 | 13-Nov-15 | 484 | 1506 |   |
| 19 | 23-Oct-15 | 489 | 1502 |   |
| 18 | 2-Oct-15 | 450 | 1530 |   |
| 17 | 18-Sep-15 | 450 | 1545 |   |
| 16 | 8-Sep-15 | 459 | 1517 |   |
| 15 | 21-Aug-15 | 456 | 1523 |   |
| 14 | 7-Aug-15 | 471 | 1402 |   |
| 13 | 17-Jul-15 | 451 | 1581 |   |
| 12 | 10-Jul-15 | 463 | 1516 |   |
| 11 | 26-Jun-15 | 469 | 1575 |   |
| 10 | 12-Jun-15 | 482 | 1501 |   |
| 9 | 22-May-15 | 755 | 1361 |   |
| 8 | 17-Apr-15 | 453 | 715 |   |
| 7 | 10-Apr-15 | 469 | 925 |   |
| 6 | 27-Mar-15 | 453 | 1637 |   |
| 5 | 20-Mar-15 | 481 | 1620 |   |
| 4 | 27-Feb-15 | 735 | 1187 |   |
| 3 | 20-Feb-15 | 808 | 849 |   |
| 2 | 7-Feb-15 | 818 | 779 |   |
| 1 | 31-Jan-15 | 886 | 779 |   |
Courtesy of canada.ca